Hello readers!
el top de esta semana está relacionado con los malvados de la historia
podíamos elegir entre libros, cómics, películas y/o lo que se nos ocurriera para este top así que mi lista será un tutifruti jajaja...
es decir será general.
COMENCEMOS:
Top Ten Tuesday es una sección creada por The Brooke and the Bookish en la que todos los martes de cada semana propone un tema a partir del cual nosotros debemos elaborar una lista de 10 elementos (libros, autores, citas, etc) que sigan la temática.
Lord Voldemort
El que no puede ser nombrado... uy ya lo dije XDD
Sin Lord Voldemort esta lista no estaría completa, es decir, lo tenemos alrededor de 7 libros, 8 películas y una obra de teatro!! (por que sí aparece verdad??)
Conocimos tanto a ese villano, que hasta sentí empatía por él! sin él que historia tendría Harry Potter.
Sin lugar a dudas el señor tenebroso es de mis favoritos.
Sauron
El más maldito de toda la comarca y muchos lugares más!
Me encantó este villano en El señor de los anillos, la historia cuenta con tantos personajes y tantos lugares que es dificíl creer que pueda existir algo tan maligno... verlo. aunque sea unos minutos, en El Hobbit fue simplemente genial.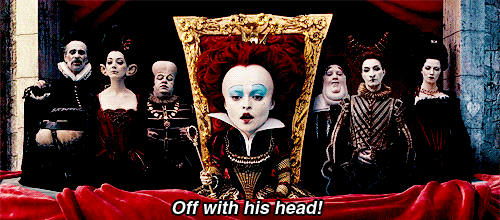 Reina de Corazones
(o roja)
Con este pesonaje tengo una especie de amor/odio jajajaa...
la amé en la película, pero en el libro no tanto.
En fin, sin esta cabezita real la historia no se hubiera hecho.
(como buscaba gifs decidí poner a mi querida Helena Bonham Carter como representación)
Coriolanus Snow
o como muchos lo conocieron el Presidente Snow de Panem, presidente que buscaba el "equilibrio" entre los distintos estados sociales de las personas... un personaje cruel, ruin y sin el menor cargo de conciencia sobre lo que hacía, el malo en el mundo de Katniss Everdeen y el que estando a punto de morir aún se reía
por cierto amé esa escena
Drácula
Uno de los mejores villanos que hayan existido... no sólo es un un ser "muerto" tenía cultura, elegancia y refinamiento, un personaje que llamaba la atención de cualquier persona, sobre todo las mujeres.
Esta película (la imagen de arriba) es de mis favoritas.
The Joker
me encantan los superheroes y sus villanos, me hice muy fan gracias a mi hermano, pero antes de que él naciera siempre me veía las caricaturas y películas de Batman, soy #TeamBatman y aunque me guste un poco más Marvel que DC Comics, Batman será el número uno siempre...
Por supuesto que The Joker es mi villano

#NumberOne

, es listo, maniático y un total caos, he visto a muchos Joker a lo largo de mis años pero mi actuación favorita es la de Heath Ledger, lo siento Jared Leto te amo con todo mi ser (por si no lo saben Jared Leto, el nuevo Joker en Suicide Squad, es el vocalista de la banda Thirty Seconds to Mars y yo soy mega fan de la banda) pero Heath sigue en el lugar uno (/u\)
Este villano es el que más problemas le a causado a Batman a lo largo de su vida, así que el merece un lugar en este top.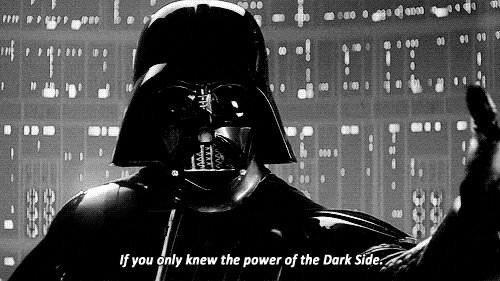 Darth Vader
osea, es el padre de la maldad! jajajaj
nuestro villano espacial tenía que estar en el top.
Cercei Lannister
Es la mas bitch dentro de las bitch, pero aún así la amo! jajaja
pude haber puesto a Joffrey,
SPOILER!

pero el mal no está más e.e XDDD en serio AMÉ verlo morir

FIN DEL SPOILER!
pero su madre es la mejor!
para empezar es una mujer, y ese es un gran mérito en un mundo lleno de villanos hombres... un personaje que sólo busca tener el poder para los suyos o para ella, la he visto estar arriba como muy abajo y aún así sigue siendo uno total bitch jajaja, creo que allí radica mi amor/odio por ella.
Hannibal Lecter
un refinado caníbal encerrado en una celda de máxima seguridad que disfruta tanto torturando psicológicamente a la agente del FBI como cuando en sus buenos tiempos se comía el hígado de un funcionario del censo .-. jajaja...
papel que catapultó a Sir
Anthony Hopkins, que ya cuenta con una serie de tv algo/muy fuerte.
A - Pretty Little Liars
A es espeluznante y sabemos que le importa muy poco que tan lejor puede llegar.
A merecía estar en este top!
*****
Haciendo este top me dí cuenta que sin los villanos no habría historia!
es decir, por supuesto que mi subconsciente lo sabía pero nunca lo había analizado hasta este top! XDD
¿Cual es su villano favorito?
¿Que villano creen que me faltó?
espero y les haya gustado este top, yo me divertí mucho haciéndolo!
Nos leemos...