The Perfect Play
Sinopsis:
El profesional de Futbol Americano Mick Riley es toda una estrella dentro del campo y en la alcoba… Aunque una sexy, y decididamente madre soltera podría ser la única en hacerlo perder un juego...

Durante años, Mick ha sabido aprovechar al máximo la vida a disposición de un deportista profesional: la fama, la fortuna, y a una chica diferente en cada ciudad.
Pero cuando conoce y se relaciona con la hermosa organizadora de eventos, Tara Lincoln, quiere mucho más que la típica relación de una noche.
Lástima que Tara no esté interesada en conocer mejor al más notorio playboy del fútbol.

Como la madre soltera de un hijo adolescente, lo último que necesita Tara es el estilo de vida del jet set de Mick Riley, a pesar de que su ardiante y apasionada aventura de una noche fue inolvidable.
La vida de Tara es bastante complicada ya, como para meterse de lleno en la fama como la última adquisición de Mick.

Tara jugó al juego del amor una vez y perdió mucho, y no tiene intención de vivir de nuevo la experiencia, sobre todo con un rompecorazones como Mick. Pero cuando Mick se propone ganar, nada lo detendrá. Y tiene en mente la jugada perfecta para atrapar a su seductora picara.
Changing the Game
Sinopsis:
La agente deportiva Liz Darnell hará cualquier cosa para conservar a su cliente número uno, el beisbolista profesional Gavin Riley.

Y Gavin está más que preparado, especialmente cuando Liz se ofrece a sí misma como parte del trato.
P
ero cuando el amor inesperadamente entra en el campo de juego, ni Liz ni Gavin están listos para el mayor cambio de todos en el juego.
Taking a Shot
Sinopsis:
SI QUIERES ANOTAR, TIENES QUE METERTE EN EL JUEGO...

La ultima cosa que Jenna Riley necesita es mas deporte en su vida.
Mientras sus hermanos son unas estrellas deportivas, ella esta atascada dirigiendo el bar familiar de deportes le guste o no. Luego entra un jugador de hockey llamado Tyler Anderson. Tanto como a Jenna le gustaría salir con el, ella se prometio nunca caer por un jugador de hockey—incluso uno tan sexy como Ty.

Ty se siente intrigado por la hermosa dueña del bar, se convierte en un cliente regular. El siente que Jenna quiere hacer algo mas con su vida. Y el se gana su confianza, la pasion entre ellos crece aun mas, Ty insiste en que Jenna tiene que comenzar a vivir por ella misma. Con su valentia, Jenna también comienza a creer...

Pero primero, Jenna tiene que averiguar que es lo que quiere, que es lo que nesesita, a quien ama, y si tiene la pasion y el orgullo para tomar una oportunidad de tenerlo todo— incluso Ty...

"Cariño, soy así de bueno. Yo se que es lo que tu quieres, y puedo dartelo. En cualquier momento que tu quieras. Cualquier momento cuando yo quiera.
Por eso es que quieres estar aqui conmigo."
Playing to Win
Sinopsis:
La estrella de Fútbol Cole Rileys es conocido por hacer lo que le plazca dentro y fuera del campo. Él festeja duro y pelea aun mas duro, pero si no mejora su actitud, su carrera se acaba— así que Cole acepta a regañadientes trabajar con Savannah Brooks una consultora de imagen. No esta acostumbrado a que le digan que hacer, especialment
e (ciertamente sexy) por una hermosa sureña. En cuanto a Savannah, no esta convencida en poder transformar esta arrogante (y agresivamente sexy) fuerza de la naturaleza. Pero ella esta convencida de darle su mejor oportunidad.

Cuando las chispas comienzan a volar, Savannah establece las reglas básicas: No hay complicaciones personales. Si ella puede apagar el hormigueo que siente cada vez que Cole le da una caliente mirada con sus hermosos ojos azules, también puede apagar su deseo. Pero para dos personas que están determinadas a tener todo, una política de no intervención solo puede durar hasta que uno de ellos se rinda.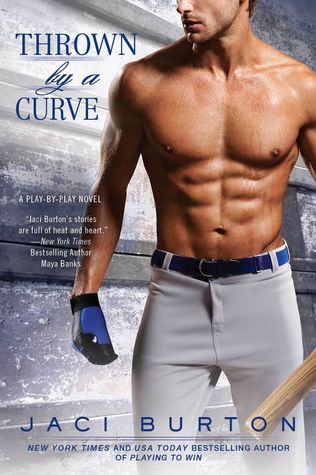 Throw by a Curve
Sinopsis:
Ella cree que sabe este juego, pero tiene un par de movimientos sorpresivos.

Para Alicia Riley, su trabajo como terapeuta deportivo para el equipo de St. Louis Ríos béisbol es un home run, hasta que se convierte en la terapeuta principal por el lanzador estrella, Garrett Scott.
Fuera de la alineación por una lesión, está de mal humor, difícil de manejar, y cada pulgada sólido, un hombre. Ahora mismo, la única demanda que está haciendo en Alicia es que conseguir estar listo a tiempo para lanzar el día de la inauguración.
Excepto la química sexual entre ellos está tan cargada.
Sin embargo, tanto sus carreras están en juego-un mal movimiento y se acabó el juego para los dos. ¿qué mejor terapia es allí que el sexo?
One Sweet Ride
Sinopsis:
Gray Preston nació en dinero, pero él ha construido su imperio de carreras con el trabajo duro y músculo. Ahora, con millones de fans, su padre senador envía a uno de sus ayudantes, Evelyn Hill, para obtener la ayuda de Gray en obteniendo votos para la próxima elección nacional.
Gray no quiere tener nada que ver con la campaña de su padr
e separado, pero Evelyn puede ser muy persuasiva. Ella está dispuesta a aprender acerca de las carreras, e incluso conseguir un poco suciedad

La meta número uno de Evelyn es la política, lo que hace que trabajar con Gray sea difícil, porque su única pasión son los coches rápidos. Mientras ella y Gray pasan tiempo juntos, él le enseña sobre el deporte que ama, y ella aprende mucho sobre el hombre detrás de la rueda.
Cuanto más aprende, más le quiere.
Sin embargo, su deseo amenaza con descarrilar los planes cuidadosamente trazados para su futuro.
Con la pasión Gray y Evelyn compartir la carrera más caliente que sea han imaginado, uno de ellos va a tener que comprometer su futuro, o correr el riesgo de perder su corazón.
Holiday Games
Sinopsis:
Una novela de vacaciones.
Una boda Riley está en proceso, una navidad para los Riley significa una casa llena, y tener un bebé esta en la mente de Liz Riley.
Perseguir a Gavin alrededor de la casay reunirse en armarios oscuros puede ser divertido, Liz es más que un poco decidida.
Incluso con la familia en todos los rincones de la casa, Gavin esta más que preparado para hacer lo que Liz quiere, sobretodo cuando se trata de sexo.
Sinopsis:
Carolina Preston tiene un sólo objetivo en mente: el lanzamiento de su nueva línea de moda.
Ella necesita solo una última cosa para que el fenómeno sea perfecto - hockey de Drew Hogan.
Pero Carolina y Drew tienen una historia que se remonta a sus día de la universidad, y Carolina no quiere que la vergüenza de su pasado nuble el brillo de su futuro.
Drew está ansioso por la oportunidad de mostrarle a Carolina que él no es el chico de la universidad, que ya es un hombre, con las habilidades necesarias para fundir el exterior de hielo de su corazón frío.